News / Cooperation with Excellent Violinist Viliam Didiáš
---
Cooperation with Excellent Violinist Viliam Didiáš
Mr. Didiáš offered cooperation and support to our NGO for children's activities.
We had the opportunity to meet with an excellent violin player, Mr. Viliam Didiáš, in mid-May. He moved recently from Slovakia to Prague, Czech Republic. We agreed during the meeting on mutual cooperation and support. Mr. Didiáš welcomes proposals to play, and he made Inclusio an offer to cooperate with us. He has insured that money gained through his performances will support projects for the NGO that help children and adolescents.
Inclusio in cooperation with Mr. Didiáš will provide band or solo performances by Mr. Didiáš for any occasion including: soirées, celebrations, company events, marriage receptions, concerts, openings etc.
Mr. Didiáš offered to the share these gains with NGO for children's activities.
This excellent violin player is prepared to play any repertoire according to your wishes in any music style for your celebration at any place in the Czech Republic. We would like to ask everybody who is interested in supporting the work of this NGO with children and those interested in Mr. Didiáš to contact the director of the NGO Petra Zahradníková at the phone number 420 606 712 535.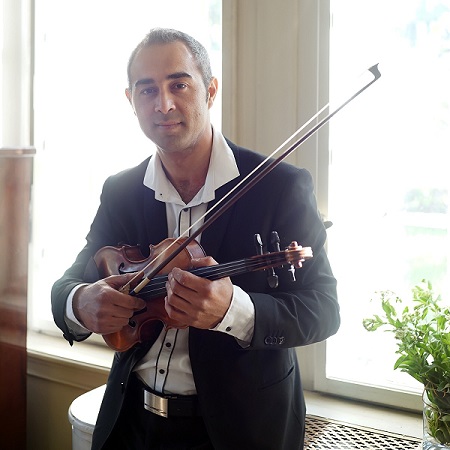 Viliam Didiáš (*1976)

The composer, pedagogue, and exceptional violin player Viliam Didiáš studied at the conservatory J.L. Bellu in Bánská Bystria. He was the pupil of legendary Slovak violin virtuoso Rinald Oláh, from whom he studied composition and violin performance. He performed as a solo artist with the concert maestro M. Hudák from Bánska Bystrica during his artistic career. He performed with Marián Varínsky, an accompanist and member of the opera of Slovak National Theatre, in Bratislava. Viliam played with Eliška Horni, a concert artist and member of the Czech Philharmonic, with Petr Šubert and many others. Additionally, Viliam is a member of the first violin group in the orchestra Golden Violins which has 55 members (the best musicians of Slovakia). He also performed, in the play, "Roma go to Heaven" at JGT Zvolen, as the main role of the Roma violin player. He worked as an arranger and composer of dulcimer music for the group SLUK Bratislava. Since 2008 he has worked as a pedagogue and director of the private basic artistic school in Zvolen, and was a teacher of music and music theory (music theory, music history, music pedagogy, and music didactics). Finally, in the past he has also organized and led music seminars and workshops.
He transitioned from Slovakia to the Czech Republic in 2013.
He joined the music band Gipsy.cz and will remain in Prague.
Blog: www. didiasviliam.blogspot.com
Music samples: Schindler´s list, theme from the film "Red violin" 2, theme from the film "Red violin" No.1, N. Paganini Cantabile, Salašnícka, Na Myjave, Hora Martisorului, C mol - friss čardáš, Borovka etc.